Shopping Cart
Your Cart is Empty
There was an error with PayPal
Click here to try again
Thank you for your business!
You should be receiving an order confirmation from Paypal shortly.
Exit Shopping Cart
Hi,  We have recently set up a page on facebook.  check us out.
Western Women's Volleyball Team @ Camp Cataraqui Over the weekend of September 13-15th, the UWO Women's Volleyball team participated in a team building weekend held at Camp Cataraqui – located on the shores of Lake Erie in Muirkirk, Ontario. With 17 athletes and 2 coaches – we were very fortunate to find a facility that could accommodate such a large number at a reasonable cost. Our team rented out McGeachy Longhouse and spent two nights camped out on the floor of the longhouse. We used the kitchen facilities to make our own meals, and found that the camp had all the equipment we needed to make and serve every meal of the day. Over the weekend, we took advantage of many of the activities the camp has to offer – including nature walks with great views of Lake Erie and a large group campfire around the fire pit. The highlight of our weekend was making use of the 'Task Initiative' course set up in the woods at Cataraqui. The team was split in two, and each group of 8 participated in seven different challenges. Each task presented a different problem solving challenge – and it was great to see how the qualities of leadership and resourcefulness emerged within our team. Each group worked together – and displayed amazing creativity, bravery and competitiveness throughout the afternoon challenges. These challenges were all brand new to our team – and they tackled them head on! A favourite of our team was 'The Wall' – where each group had to get all team members up and over the wall safely and as quickly as possible. Our coaching staff was amazed at how quickly they worked together to accomplish this task! It was an afternoon where we learned a lot about our team, they learned a lot about each other – and each athlete left with a sense of accomplishment because they took on challenges that pushed them outside of their comfort zone. We finished the challenges with the 'land ski' race – which was the ultimate test of teamwork and communication. It was a great way to kick off our season and to build important off the court relationships. For both athletes and coaches it was a weekend we will remember throughout our season and for many years to come. Thank you to Scouts Canada and Camp Cataraqui for being great hosts – from the beginning to end of organizing our stay it was a simple process, when we arrived to camp it was clean and prepared for us to stay, and a camp member even stayed late to welcome us and show us around on the first night. We look forward to making Camp Cataraqui a part of our annual pre-season tradition with the Mustangs Volleyball Team!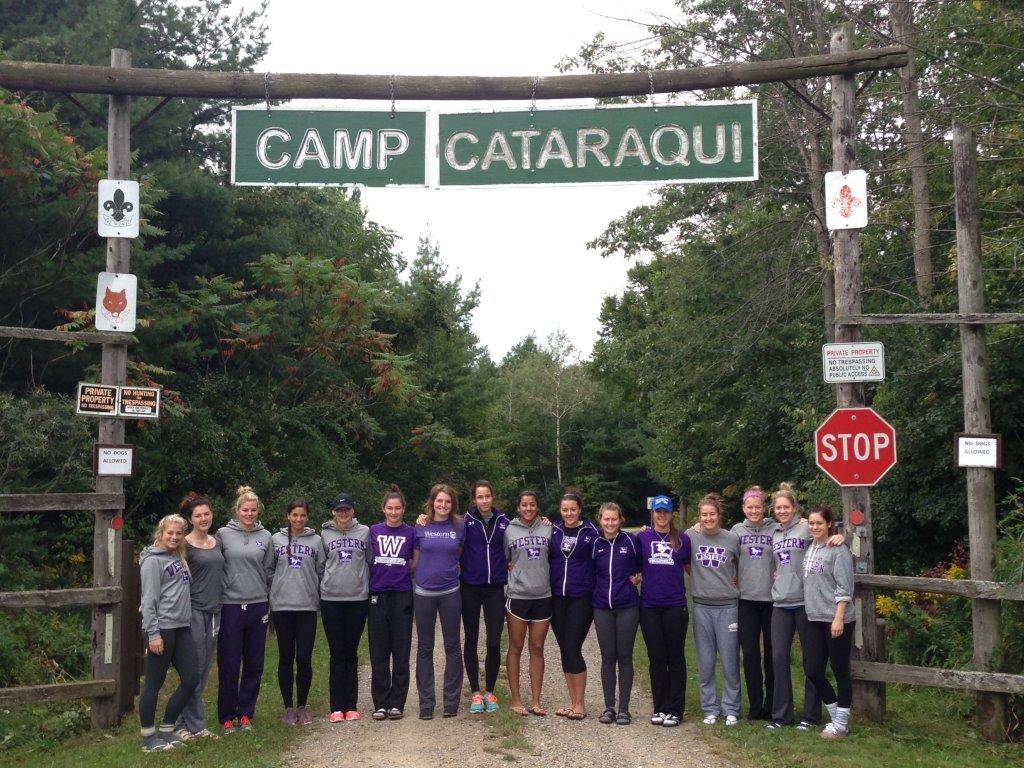 Come and see whats new at the camp.  We would love to see you at the open house on September 15 between 10am - 4 pm.  Check out what the camp can offer your youth!
This weekend is anther work weekend, hopefully lots of scouts, ventures and leader will come out to help the camp committee member make the camp improvement. Lots of things to be done.  Please help us make our camp the best that it can be. 
Welcome to our new site. Hopefully we have answers to all your question!:) 
/